Show Info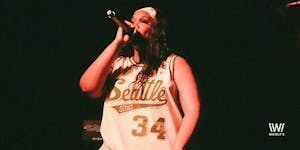 Colo Chanel
Koo Braswell, Shaun Creates, 17th Trippy, Jack Da Jripper
$10.00 - $15.00
Sales Ended
Colo Chanel will be performing at Wooly's on Saturday, August 15th, 2020.
Here are some safety precautions we are / have been practicing at Wooly's which has been providing a safe environment for our fans at Wooly's:
Masks are required when attending a show. If you forget your mask, you can purchase one for $1 at the door.
We will be disinfecting surface areas regularly & washing hands regularly.
Our employees will be in PPE (Gloves, Masks)
Hand sanitizer stations will be located throughout the venue and in restrooms.
If you are not feeling well, please do not attend!
Please message us with any questions or concerns at info@woolysdm.com.
Thank you for keeping our staff, performers, and patrons safe!
About Colo Chanel
Courtnei "Colo Chanel" Caldwell is an actor, award-winning slam poet, activist and female hip-hop artist hailing from Kansas City, Missouri.
About Koo Braswell
Hip hop artist from Des Moines, Iowa.
About Shaun Creates
Creating irresistible sounds for new age taste makers.
About 17th Trippy
Hip hop artist from Des Moines, Iowa.
About Jack Da Jripper
Jack Da Jrippa is a Chicago born music artist, specializing in Hip-Hop/Rap Music. Formally known as E-Spot Jack and he is a member of the "Gram Godz" a Rap Compilation Of Music Artist.

Venue Information:
Wooly's
504 East Locust Street
Des Moines, IA, 50309