Show Info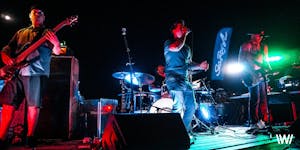 Decoy will be performing at Wooly's on Friday, December 18th, 2020.
Here are some safety precautions we are / have been practicing at Wooly's which has been providing a safe environment for our fans at Wooly's:
Masks are required when attending a show. If you forget your mask, you can purchase one for $1 at the door.
We will be disinfecting surface areas regularly & washing hands regularly.
Our employees will be in PPE (Gloves, Masks)
Hand sanitizer stations will be located throughout the venue and in restrooms.
If you are not feeling well, please do not attend!
Please message us with any questions or concerns at info@woolysdm.com.
Thank you for keeping our staff, performers, and patrons safe!
About Decoy
Decoy's endless mix and unique variety of music will take you and your party to the next level!  If you're looking for a non-stop, upbeat experience that will have you and your party-goers dancing until the last chord, look no further.  Decoy is known for mashing-up all genres of music to make sure they can engage all types of audiences and crowds at any event!
About Merry Axemas
Merry Axemas is a seasonal labor of love, rocking instrumentals of your favorite christmas tunes with a heavy twist on the traditional. led by guitar wielding wagner brothers, stoney and micah, this 4 piece hits hard covering everything from rudolph to the grinch. inspired by the ho ho hoey albums of guitarist gary hoey, get ready for a little spice in that egg nog

Venue Information:
Wooly's
504 East Locust Street
Des Moines, IA, 50309