Show Info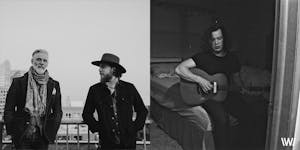 DICKIE & Trevor Sensor will be performing at Wooly's on Saturday, March 6th, 2021.
Here are some safety precautions we are / have been practicing at Wooly's which has been providing a safe environment for our fans at Wooly's:
Masks are required when attending a show. If you forget your mask, you can purchase one for $1 at the door.
We will be disinfecting surface areas regularly & washing hands regularly.
Our employees will be in PPE (Gloves, Masks)
Hand sanitizer stations will be located throughout the venue and in restrooms.
If you are not feeling well, please do not attend!
Please message us with any questions or concerns at info@woolysdm.com.
Thank you for keeping our staff, performers, and patrons safe!
About DICKIE
Dickie's 2015 self-titled release was a moody testimonial of singer-songwriter Dick Prall. Prall took a succession of personal losses and nestled them inside a beautifully-layered soundtrack that found Dickie on the top of several "Best of" lists that year. 2019 finds Prall in a nostalgic headspace, partnering with talented drummer/multi-instrumentalist Billy Barton to produce a stripped-back mix of reflective and pulsating sing-alongs in the latest release, Minus Thieves.
Though the common thread of Prall's past work has showcased liberal production through lush string arrangements and gorgeously-stacked harmonies, Minus Thieves is a practice in restraint led by producers Pat Sansone (Wilco) and Joshua Shapera. The simplified effort was tracked at The Magic Barn, a rural studio located just outside the small town of Solon, Iowa. Its notoriety comes from housing the original recording equipment of New York's now-defunct The Magic Shop. Artists such David Bowie, Lou Reed, The Ramones, and Blondie have all made records at the famous facility. Sansone and Shapera reached back even further into the archives of recording history by applying a formula of straightforward guitars of all sonic sizes and fusing them seamlessly with Barton's tight rhythms and Prall's continuous knack for infectious melody.
Whether a seasoned critic or a casual listener, you'll find the minimal production of Minus Thieves impeccably highlights the Prall/Barton collaboration, welcoming you to happily ingest the most important parts of any pop-tinged record.
About Trevor Sensor
Known for his distinctly husky vocals, intellectual lyrics, and atmospheric folk-laden, punk-infused indie rock, Trevor Sensor is an American singer/songwriter from Sterling, Illinois. Growing up in the small city (occasionally deemed the "former hardware capital of the world"), the abandoned factories and working-class bars that adorn the rust belt landscape ultimately fed into what the young songwriter would use to fuel his musical creations. This, alongside the elusive idea of pop culture and stardom, inspired Sensor to try and escape the city himself. He eventually relocated to Iowa, where he studied literature and philosophy at college. The words of great minds such as Marcel Proust, Søren Kierkegaard, and beat generation authors William S. Burroughs and Jack Kerouac, would be some of the vital elements to Sensor's art. He went on to discover his musical voice in a number of bands before penning his own songs, and after a number of live performances, he caught the attention of Indiana-based indie label Jagjaguar.

He put out his first official release, the Texas Girls & Jesus Christ EP, via the label in early 2016. The release received widespread acclaim and Sensor began to garner comparisons to iconic artists such as Tom Waits and Bob Dylan, as well as alternative acts that dominated the 2000s and 2010s such as Bon Iver and Sufjan Stevens. Following this success, he didn't waste time and quickly followed up with his second EP, Starved Nights of Saturday Stars, later that year. The release was led by the single "When Tammy Spoke to Martha" -- another surefire example of Sensor's mature songwriting and ability to effectively paint a picture and tell a story with infectious and anthemic melodies, all the while drawing upon numerous styles and sounds. His debut full-length, Andy Warhol's Dream (the title refers to the artist's prediction of everyone's 15 minutes of fame and is also a reference to the celebrity culture of the 21st century), arrived in the summer of 2017, and was produced by Jonathan Rado of indie rock duo Foxygen. The record also featured guest appearances from Julien Ehrlich and Max Kakacek of the Chicago indie outfit Whitney. ~ Rob Wacey, Rovi

Venue Information:
Wooly's
504 East Locust Street

Des Moines, IA, 50309