Show Info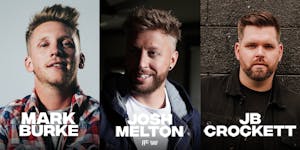 Presented By First Fleet Concerts
Josh Melton
Mark Burke, JB Crockett
$15.00 - $60.00
Sales Ended
Josh Melton Featuring Mark Burke & JB Crockett will be performing at Wooly's on Thursday, March 4th, 2021.
Here are some safety precautions we are / have been practicing at Wooly's which has been providing a safe environment for our fans at Wooly's:
Masks are required when attending a show. If you forget your mask, you can purchase one for $1 at the door.
We will be disinfecting surface areas regularly & washing hands regularly.
Our employees will be in PPE (Gloves, Masks)
Hand sanitizer stations will be located throughout the venue and in restrooms.
If you are not feeling well, please do not attend!
Please message us with any questions or concerns at info@woolysdm.com.
Thank you for keeping our staff, performers, and patrons safe!
About Josh Melton
An Ohio born country raised Singer/Songwriter joins the ranks of country music's finest now living in Nashville, TN. Josh has shared the stage with some of country music's most notable - Keith Urban, Tim McGraw, Rascal Flatts, Chris Janson and many more. Upon his relocation he's made noise throughout the "Music City" which got him picked up by WME agency as well as landed him a publishing deal with Ebach Entertainment/Unviversal Music Group. Melton son of a preacher brings a smooth soulful sound to his music that has the ability to connect with listeners from far and wide. Josh is managed by Chris Perkins and Victory Entertainment.
About Mark Burke
The strum of six strings, strength of a voice, and story of a song…these are what drew Mark Burke to country music and what sets him apart from others in the industry.
Born and raised in Stuart, Florida, Mark took to music at a very young age. "He (Marks father) played all kinds of music and that's where I realized the power of a song and that I wanted to write." To Mark, songwriting isn't jus something to do – it's an experience and a way of life. Songwriting is a way to release what you're feeling, to tell a story, and to connect with people beyond physical and emotional contact.
Instrumentation also came naturally to Mark as he began playing the piano at age seven. However, it wasn't until his senior year when Mark picked up a guitar at a yard sale and began plucking away. Since then, he hasn't looked back
With influences such as Waylon Jennings, Vern Gosdin, Merle Haggard, and Craig Campbell, it's no wonder why stylistically, Mark's songs are a cross between George Jones and young Eric Church. His songs have an honesty – a realness – about them. They're written from the heart, they're meant to be heard, and they impact listeners. The passion he has for songs and songwriting comes through in his performances and leaves a lasting impression on listeners.
Today, Mark can be found playing shows in Nashville as well as up and down the east coast. He's also had the opportunity to share the stage with acts such as Scotty Emerick, Craig Morgan, James Otto, Chris Cagle, Craig Campbell, Luke Bryan, Josh Gracin, Darryl Worley, Josh Thompson, Jake Owen, and most recently, Chris Young.
About JB Crockett
Born in Indiana, raised in central Florida, and now residing in Nashville, JB Crockett spent much of his youth listening to his family sing and play in the church worship band. Although never a singer, JB often played the drums and occasionally watched his father play the guitar. He chose the path of racing dirt bikes and playing sports rather than pursuing a passion in music. That eventually changed after a tragic dirt bike accident led to JB relocating to Gainesville, FL where, during his college tenure, he'd spend countless hours working on his vocal and guitar skills. JB finally purchased his own acoustic guitar and, on a random whim, he and his roommate agreed to play an open-mic night. After a few open-mics, his passion for music escalated and it hasn't stopped since.

In January 2016, JB released his independent self-titled debut EP, which would go on to chart in the top 50. Since then, JB has had the opportunity to play with Tracy Lawrence, Easton Corbin, Frankie Ballard, Chase Bryant, Old Dominion, Big SMO, Dylan Scott, Kane Brown, and most recently, he and his band have opened for and served as the backing band for Rascal Flatts lead vocalist Gary LeVox on several of his solo dates. His 2018 single "Dirt In This Town" gained traction at radio in the south and Midwest and continues to garner interest from some of the top names in country music.

Now, with a powerhouse band behind him that includes Brad Moxey (Saliva, Evergreen Terrace), Robbie Vanosdol (Universal Records' Son Of A Bad Man), and Jeff Nations (Shaman's Harvest, Rookie Of The Year), JB Crockett is very quickly making a name for himself on the national level with his insanely catchy and instantly relatable country anthems that blur the line between country and rock n roll, along with his band's explosive, high-energy live performances.

Venue Information:
Wooly's
504 E Locust St

Des Moines, IA, 50309