Show Info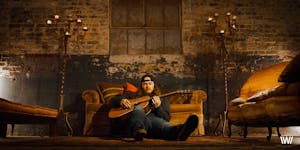 Presented By First Fleet Concerts
Kody West
Kayla Ray
$12.00 - $15.00
Sales Ended
Kody West will be performing at Wooly's on Tuesday, November 17th, 2020.
Here are some safety precautions we are / have been practicing at Wooly's which has been providing a safe environment for our fans at Wooly's:
Masks are required when attending a show. If you forget your mask, you can purchase one for $1 at the door.
We will be disinfecting surface areas regularly & washing hands regularly.
Our employees will be in PPE (Gloves, Masks)
Hand sanitizer stations will be located throughout the venue and in restrooms.
If you are not feeling well, please do not attend!
Please message us with any questions or concerns at info@woolysdm.com.
Thank you for keeping our staff, performers, and patrons safe!
About Kody West
Just one year after his first EP "Higher Ground" Kody and the band released their debut album "Green" in April of 2017 and found themselves quickly gaining a large following of loyal fans. In the past 3 years he and his band have traveled across the country headlining shows, as well as serving as the supporting act for artist like Charlie Robison, Whiskey Myers , and Koe Wetzel. They have now released their sophomore record "Overgrown" that was recorded in Kody's hometown of Denton, Texas. Kody's drive for Touring and live shows keep wheels always turning and the band always working. Try to keep up!
About Kayla Ray
Kayla Ray delivers country music with rawness and honesty. Kayla was raised around worldly experience and heartache, and this rings loud and clear in her genuine delivery of pure country music. With her grandmother's musical tastes a strong influence, growing up Kayla surrounded herself with music from our past. She poured over the work of country music giants such as: Patsy Cline, Loretta Lynn, Tammy Wynette, Tanya Tucker, Merle Haggard, George Jones, and Willie Nelson. Although the influence of these artists is prominent in her strong delivery and original truth filled lyrics, she has developed a truly unique and captivating style that is all her own. Growing up in the Waco, Texas area, Kayla began seeking any opportunity to perform. Kayla played off and on with the legendary fiddle player Johnny Gimble and his family band simple called, "The Gimbles". Johnny's son Dick Gimble remains one of Kayla's strongest mentors.

It is also worth noting that, Kayla played her first paying gig at Papa Joes in Lorena, Tx where as she puts it, "Billy Joe Shaver shot that guy in the face and got away with it.".

In 2012 Kayla began tour managing and performing artist Jason Eady and his full band. Certainly you can imagine the kind of fire it takes a young woman in her budding twenties to manage touring male musicians twice her age. In this role, Kayla did not disappoint. It seems as if she thrives in adversity, loving every moment and singing with conviction, every mile.

In August 2014, Kayla released her first full length album "Love and Liquor". This album, produced by her then employer  Jason Eady, is a collection of all original country songs, not the new wave "country music" that exploits marketing tactics, the kind of country music that sticks to your ribs and involves the human design.

"Love and Liquor" was reviewed by countless bloggers and industry professionals. A few mentions are:

"Kayla embodies everything that was and should still be country music. Kayla is a sweet spirit with a love of music and the songwriting and performing ability to let the good times and the tough times of her upbringing shine through." -Brian Strickland Music of New Braunfels

"Kayla Ray is a breath of fresh COUNTRY air. In music genre filled with people trying to sound like other people, Kayla forges her own sound. Much like Loretta and Tammy, before her, she writes and sings from her HEART. Real life is what Country Music is all about, and Kayla Ray sings and writes REAL Country Music, and that's hard to find in this day and age." -Jim Nash 106.9 The Ranch

In 2015 Kayla was named TRRMA's "New Female Vocalist of the Year". She is a 5 time MACT Female Vocalist of the year and the album "Love and Liquor" made many top ten lists in both 2014 and 2015.

Outside of her time with Eady, Kayla began her performing in the Central Texas regions and has now grown to national touring. Opening for a conglomerate of acts, as well as headlining many of her own shows, despite her youth, has lifetimes of experience.

In 2014 Kayla left the Eady camp to tour independently. Since then she has has tackled legendary venues such as Billy Bob's Texas, Luckenbach Texas, and Knuckleheads in Kansas City, Mo. Kayla stays busy touring nationally at the pace of 150 plus dates a year.

Kayla has shared stages with artists, writers, and bands such as the Turnpike Troubadours, Cody Jinks, Zane Williams, Whitey Morgan, Erin Enderlin, Jamie Lin Wilson, Jason Eady, Whiskey Myers, Mo Pitney, Marcia Ball, Reckless Kelly, Mickey and the Motorcars, Jason Bolen, and countless others.

May 4th of 2018 Kayla's sophomore album "Yesterday and Me" released. This album is a collection of hard lived truths set to moving melodies. From honky tonk dance tempos, to sit you down and contemplate life ballads this album does not disappoint. Critically acclaimed this album has had success in both the United States and the UK. Among this albums accolades Kelly Gregory critic for "Country Music People Magazine" listed "Yesterday and Me" as the #1 ALBUM OF 2018!

On August 23, 2019 Kayla released a brand new self produced single, The Jameson Waltz. This song is an example of her feverish reverence to country music and an indisputable work ethic. In its first quarter this single more than doubled its projected Spotify numbers.

Given the path so far, we continue to look forward to good things from Miss Kayla Ray.

Venue Information:
Wooly's
504 E Locust St
Des Moines, IA, 50309