Show Info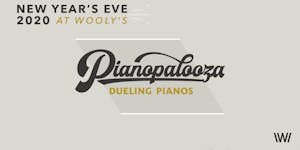 Pianopalooza will be performing at Wooly's on Thursday, December 31st, 2020.
Ring in the new year with Pianopalooza at Wooly's! Dance, drink, be merry, and be entered in raffle for our "Golden Ticket" - a pair of tickets to all Wooly's concerts in the year 2021. Booths and tables are available for purchase (and sell out every year) Purchase your table or booth now to ensure your seat!
Tickets are available for a special discounted price of $15.00 for the first week!
Here are some safety precautions we are / have been practicing at Wooly's which has been providing a safe environment for our fans at Wooly's:
Masks are required when attending a show. If you forget your mask, you can purchase one for $1 at the door.
We will be disinfecting surface areas regularly & washing hands regularly.
Our employees will be in PPE (Gloves, Masks)
Hand sanitizer stations will be located throughout the venue and in restrooms.
If you are not feeling well, please do not attend!
Please message us with any questions or concerns at info@woolysdm.com.
Thank you for keeping our staff, performers, and patrons safe!
About Pianopalooza
All that you are about to read is completely true. Names have not been changed to protect anyones identity or self esteem.

To say Tony Bohnenkamp and Jerry Lorenson are star-crossed dueling piano partners would be the understatement of our generation. Don't believe me? Well then sit tight reader, warm up your Keurig, and get ready to have your mind blown as you read—"The Ballad of Pianopalooza."

At just 4 years of age, a classmate jerked Tony's swim trunks down to his ankles at the Auralia City Pool in front of EVERYONE. In an eerily similar event, when Jerry was 4 years old, his mother accidentally HIT HIM WITH THE CAR in a grocery store parking lot. Determined to overcome early adversity, these lone wolves began to awaken their inner piano-beast with lessons from kind, elderly piano teachers that wore very strong perfume.

Fast forward to adolescence—at 15, while front row for The Smashing Pumpkins, lead singer Billy Corgan spit on Jerry during the show. For Jerry, this was transformative. He emerged from the concert anointed and reborn—like one half of a full Phoenix. Meanwhile—at The Outfield/Starship concert the summer before his freshman year, Tony recalls "the lights went up, and The Outfield started playing. I felt like I was floating above the crowd, and The Outfield was playing a private-but-not-in-a-weird-way show just for me."

These early encounters with rock & roll royalty put Tony and Jerry on a collision course trajectory—destined to crash into each other like a cosmic Dave Matthews song 20 years in the making. Fate would finally unite them when Jerry moved to Des Moines and needed a place to stay. A thundering voice in his head told Tony to offer him a spare room— and they haven't looked back since.

They have forged an unbreakable friendship built on fundamental elements like MarioKart and cigarettes. Although each has had success as solo artists and with other bands, Jerry sums it up nicely saying "I just pray each day that Tony and I die at the exact same time, like the end of The Notebook."

So do yourself a favor. Hold your loved ones close, and go see Pianopalooza every chance you get.

Venue Information:
Wooly's
504 East Locust Street
Des Moines, IA, 50309